Bodhi mala online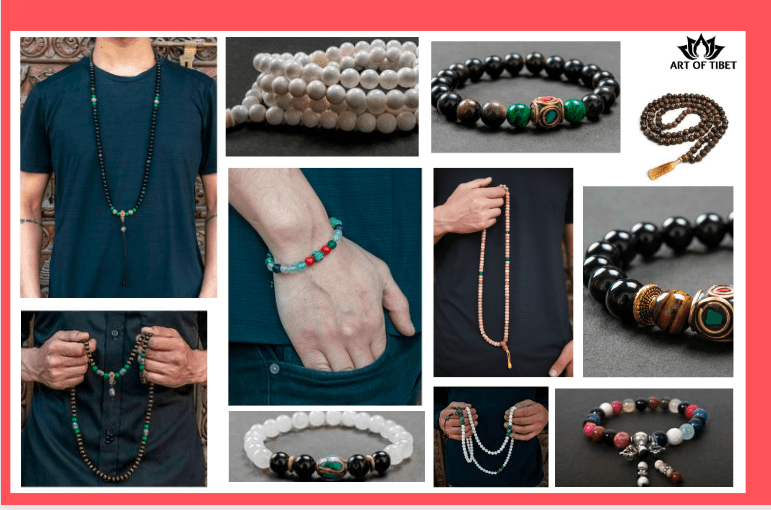 Bodhi mala have significance in Buddhist culture for peace, meditation, and regular prayer. Buddhist people believe that buddha was meditated under the bodhi tree during his enlightenment period. Bodhi considers auspicious to use for all practices and represents spiritual promise.
Bodhi mala is also known as meditation mala. It is used for practice counting breaths and mantra repetitions. It has '108' seeds which are a special meaning in Buddhism and Hinduism. Why 108 in Bodhi mala.
108 is an encouraging number

 108 energy lines directing to the heart chakra

There are said to be 108 phases to the human journey

108 inhales and exhales each day will help lead to enlightenment

In the Sanskrit there are 54 female and 54 male characters
Malas are used to chanting mantras like OM, I am Calm, and I am Fine.

Here are some features of Bodhi Mala.

Durable

Bodhi mala is durable for a long time each bead is approximately 1/2-inch (15mm) in diameter and the cord is not knotted between seeds. Chords are made from silk which is stronger enough to handle stress.
Light Weight
Bodhi mala is made of seeds of the bodhi tree which is light in weight. We are not so many cares to carry this mala.
Decorative
Bodhi mala is decorative which we can use for decoration propose when not in use.
Where to buy Bodhi mala?
There are a bunch of websites that sell Bodhi mala but be careful with scammers. ArtofTibet.com deliberately practices a good ecosystem for e-commerce to sell bodhi mala. We often place mala on sale. We are a leading company selling online bracelets.
Who can ware Bodhi mala?

Anyone can wear bodhi mala to get the benefit of it. Bodhi mala is not only a chord with pieces of seed, It's a culture of faith love, and affection.
From the age of 0 up to 100+ can wear this pure piece of peace.
Price of Bodhi mala?
Bodhi malas are often sold at a pretty expensive price on other e-commerce platforms and offline stores. But in Art of Tibet, our minimum price for mala is $35.
Some of the Prices List of Highly sold Malas.
7 Chakra Bracelet Rs. 58,54.70 (Nepali Price)
African Turquoise Bracelet Rs. 6,103.83
Aventurine Stone Of Prosperity Bracelet Rs. 6,228.40
Blue Onyx Mala Rs. 10,214.58
Mix Moonstones Bracelet Rs. Rs6,103.83